Quids in – make a donation
Gotta bit o' brass knocking about that you want to give to a good cause? Here's 'ow to do it:
Donation form
You can make a donation by completing this proper easy donation form and our finance lads and lasses will sort it out.
Send a cheque
You can also bob us a cheque made payable to the South West Yorkshire Partnership NHS Foundation Trust charitable funds in't post to:
South West Yorkshire Partnership NHS Foundation Trust
Finance department
Block 9,
Fieldhead,
Ouchthorpe Lane,
Wakefield,
WF1 3SP
Let us know your name and address too so we can say cheers.
JustGiving
Gerron't web at: www.justgiving.com/EyUp and chuck us a few quid online. Every penny counts!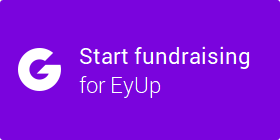 Donr (text donate)
Just pick up the phone and text 'EYUP' to 70085 to donate £2. This costs £2 plus a standard rate message.
To make a regular monthly donation of £2 through Donr, text 'EYUPMONTHLY' to 70085. This costs £2 per month plus two standard rate messages.​
More information on donating
To find out more about raising money or making a donation to the fund, contact financial accounts on 01924 316208 or email EyUp.Charity@swyt.nhs.uk . You can also contact us via the address above.
Page last updated on: